This is a revised, updated version of a post originally written on April 21, 2015.
Columnist Eugene Volokh wrote in the Washington Post on April 20, 2015: "Have civilians with permitted concealed handguns stopped such mass shootings before?"  We provided Volokh with a list of such cases, which he used.
Below, we have collected news stories on more cases of permit holders stopping mass public shootings with their handguns (we separately collect cases where concealed handguns are used to stop other crimes).  There is no reason to believe that this list is comprehensive, given how little media coverage is devoted to these heroic acts.  In addition, we make no attempt here to list here the vast number of defensive gun uses in general that are reported daily in the US.
Permit holders stopped some mass public shootings that gained extensive news coverage, but only a few stories mentioned that it was a permit holder who stopped the attack. The stories frequently get other facts wrong.
A note: Gun control advocates raise the concern that concealed handgun permit holders who stop an attack might accidentally shoot a bystander. They are also fearful that the police might accidentally kill the permit holder.  While such incidents are a possibility, they have yet to occur.  We probably do not have all the cases where a permit holder stopped a mass public shooting, but if a permit holder were to shoot a bystander, it seems clear that such an event would get news coverage.
[This post has been updated. Cases have only been systematically collected since 2014. Because of the lack of news stories that accompany these cases, we believe that we have found a much greater percentage of the cases since 2014 than earlier.]
Dallas, Texas, July 25, 2020, Fox 4 News (Dallas)
Dallas police said three men were shot and a woman was hit by shrapnel when someone opened fire outside a sports bar in North Oak Cliff Saturday night.

The shooter was reportedly among three men who were turned away from Harris House of Heroes II sports bar, just before midnight, because the establishment was at full capacity. . . .

Police said the shooter went to the back of the sports bar, where he was "confronted by armed partrons," and they exchanged gunfire.

The shooter fled before police arrived, and remains at-large.

David Sentendrey, "4 injured in shooting at Dallas sports bar after men not allowed in due to COVID-19 restrictions," Fox 4 News (Dallas), July 26, 2020.
Brownsburg, Indiana, July 16, 2020, WISHTV (Indianapolis, Indiana)
Fortunately, one of the people wounded in this shooting had a permitted concealed handgun and was able to then get out of his car and shoot the attacker. Indiana has 18.5% of the adult population with concealed handgun permits.
22-year-old Joshua Christopher Hayes launched an unprovoked attack against two men working in Brownsburg Cemetery Tuesday around 1:15 p.m. Hayes first chased 36-year-old Seth Robertson to a nearby intersection before he fatally shot Robertson.

Hayes then chased after the second man and shot a third man who was stopped at a traffic light nearby. The third man was legally armed and fatally shot Hayes.

"This tragic event could have been much more disastrous. So, victim three not only saved victim two's life, but he saved potentially the lives of many others," BPD Capt. Jennifer Barrett. "Victim three did exactly what anybody would have wanted him to do at that scene that day."

Travis Robinson, "Mental health issues contributed to fatal Brownsburg shooting," WISHTV (Indianapolis), July 16, 2020.
Kwethluk, Alaska, May 16, 2020, multiple sources.
This attack appears to have been a well-planned mass public shooting where the attacker had brought multiple guns and a bullet-resistant vest and helmet. The fact that the attacker was charged with four counts of attempted murder shows what might have happened if the armed civilian who stopped the attack hadn't been present.
According to state troopers, a 19-year-old man, Brian Nicolai, broke into the village public safety building dressed for combat. He staged rifles inside, and activated the fire alert system. When village police officers responded, the officers say that Nicolai shot at them. But no one was hurt, largely thanks to an armed resident who got Nicolai to give up his weapon and lie on the ground. . . .

Kwethluk's Public Safety Administrative Chief, Nicolai Joseph, said that a potential mass shooting was avoided on May 16. According to state troopers, Brian Nicolai was wearing a bullet-proof vest and helmet when he activated the village fire alert system. Village Police Officer Tiger Lee was the first to respond to the fire alarm. When he arrived, he said that Nicolai pointed a rifle at him and pulled the trigger. . . .

That resident was Casey Thompson, according to the trooper's report. Thompson, armed with a rifle, was able to get the shooter to drop his weapon, the report said. Thompson declined to talk with KYUK about the incident.

Lee said that he's glad Thompson had a gun . . . .

Greg Kim, "After armed resident thwarts shooting, Kwethluk VPOs consider carrying guns," KYUK, May 22, 2020.
Brian Nicolai, of Kwethluk, is charged with four counts of attempted first-degree murder, third-degree assault, first-degree burglary, third-degree criminal mischief and first-degree criminal trespass. He was arraigned Saturday in Bethel court. . . .

A Kwethluk resident who saw what was happening left the scene, returned with a rifle and talked Nicolai into lowering his weapon. Nicolai lay down on the floor and was quickly subdued by village police officers.
Bethel-based troopers in Kwethluk responded to a report of an active shooter inside the public safety building at 5:18 p.m . . .

Dorothy Chomicz, "Man in Southwest Alaska charged with shooting at police officer," Fairbanks Daily News, May 18, 2020.
Tulsa, Oklahoma, March 27, 2020, Channel 6
A woman named Ashley Porter started firing at a group of people who were standing in a parking lot outside a marijuana dispensary in Tulsa, Oklahoma.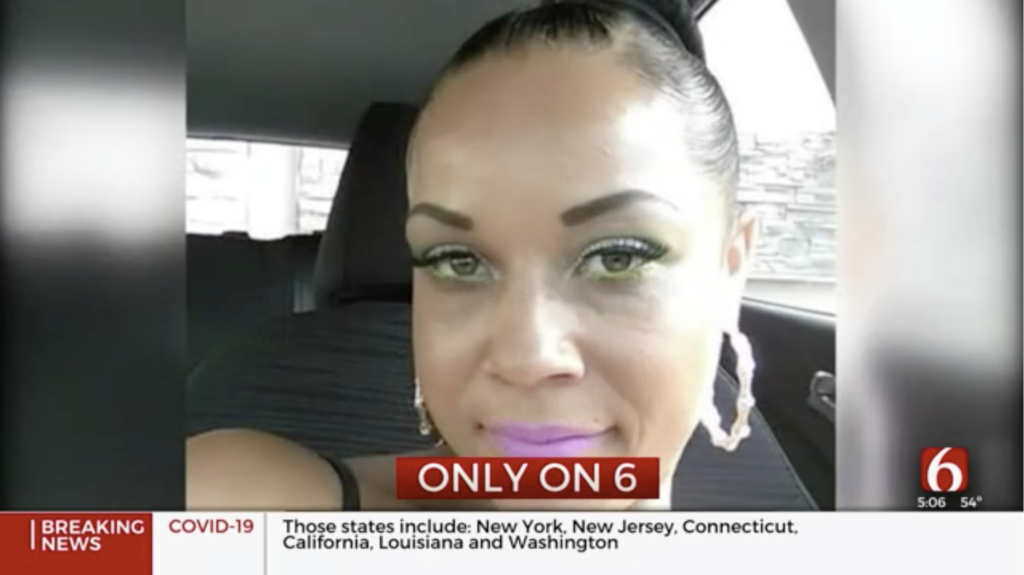 . . . Detectives say Porter got into an argument with someone near a convenience store over a parking spot.

They say surveillance video from the marijuana dispensary next door shows the argument, then Porter leaving in her car. 

They say the video shows Porter coming back minutes later and firing shots toward the crowd of people in front of the store. 

Detectives say an armed citizen pulled out a gun and fired back, killing porter. . . .

Detectives say the armed citizen was questioned and released. . . .

Reagan Ledbetter, "Family Devastated After Woman Killed In Tulsa," NewsOn6, March 30th 2020.
Additional stories are available here and here.
Near Fort Worth, Texas, December 29, 2019.
Note: The above video puts up some options in the top left hand corner that block seeing one of the parishioners who shot the murderer.
Three people, including the shooter, were shot in attack just before 10 a.m. at the West Freeway Church of Christ at 1900 south Las Vegas Trail in White Settlement, which is near Fort Worth. The attacker died at the scene after being shot by two of the parishioners. Four other parishioners also drew their permitted concealed handguns.
The Tarrant county sheriff at press conference after the shooting: "Good people stepped up and stopped it before it got worse."

"The citizens who were inside that church undoubtedly saved 242 other parishioners, and that might get swept aside," Texas DPS Director Jeoff Williams said. "It was miraculous. The true heroes in all this are the people who were sitting in those pews today and responded, the immediate responders … it was truly heroic."
Duncan, Oklahoma, November 18, 2019
There was a shooting at a Walmart parking lot in Duncan, Oklahoma that left two people murdered.
From USA Today (though it is buried in the story): "Aaron Helton, an Army veteran, said he was at the Walmart around 9:45 a.m. when he heard nine shots and saw the gunman, weapon in hand. According to Helton, another man walked up, put a pistol to the gunman's head and told him to stop shooting. Helton said he saw the shooter was turning the gun on himself and looked away."
From CNN, after killing two people in the parking lot, "the shooter shot himself after a bystander confronted him with a firearm."
From KSWO ABC Channel 7 in Oklahoma: "Multiple witnesses have said the gunman shot two people in a vehicle and a civilian with a gun confronted him, causing the gunman to turn the gun on himself. We are working to confirm that story with Duncan police."
Newnan, Georgia, August 13, 2019
This is an amazing story that was caught on video. An employee who wasn't even scheduled to work that day, but was simply hanging around the bar outside in the parking lot, stopped an attack that the police say would have likely resulted in multiple deaths. Note in the cover picture for this video that the bar has multiple gun free zone signs. From Fox 5 in Atlanta:
Deputies in Coweta County say an armed off-duty employee may have stopped a mass shooting at a crowded bar in Newnan Saturday morning.

FOX 5 News has the exclusive surveillance video of the shooting outside Fat Boys Bar and Grill on Highway 16. Deputies say that video shows Kevintez Mathewis on his way into the bar with a handgun when Ben McCoy confronts him and is shot multiple times. He drew the gunman's attention and then drew his fire. . . .
From Channel 11 News in Atlanta:
McCoy heard the shots and grabbed his gun. Investigators reportedly said that Matthewis fired several rounds at McCoy. "He put his life on the line to try and protect the bar that he loves," bar manager Emily McGhin said.  . .

Colonial Heights, Tennessee, February 13, 2019
A shooting at a dentist office in Colonial Heights, Tennessee was stopped by Larry Seagroves, a concealed handgun permit holder. After the killer, Harry Weaver, fatally shot one person, Kelly Weaver, his wife, he turned his gun on other people in the office. One of them, a dental hygienist, Sabrina Steal, said: "then he raised a gun to shoot me" (see video). Larry Seagroves shot the killer, wounding him before he could shoot these other people. After the attack, Harry Weaver told the police: "You all wouldn't be dealing with me right now if the hero hadn't stepped in."
WJHL TV Channel 11 in Johnson City, Tennessee reports: "It was just a horrific situation that police said could have possibly been even worse if a patient at that dentist office didn't take action. We are talking about a man identified as Larry Seagroves, a man with a carry permit."
Sullivan County Sheriff Jeff Cassidy said: "He was a concealed carry permit holder and I'm going to call him a hero today."
The court hearing reported in the video took place on March 22, 2019. More information is available here.
Birmingham, Alabama, October 27, 2018
A masked man entered a McDonald's restaurant and immediately started firing his gun. A concealed handgun permit holder returned firing killing the attacker.
"He's my hero," he said. "Because I can only imagine how it would've went if he wasn't armed. We might not be here having this interview." . . .

He said he heard more than 15 shots fired. . . .

— Markus Washington, an employee at the McDonalds', to WAFF Channel 48 News
Louisville, Kentucky, Wednesday, October 24, 2018
The national media has picked up on this story because of the killer, Gregory Bush, is racist, but they are ignoring the fact that a white civilian with a concealed handgun permit stopped the attack. Both the people murdered at the Koger — Maurice Stallard, 69, and Vickie Jones, 67 — were black. Bush had apparently tried to do an attack at a black church before shooting blacks at the Kroger indicates he was trying to kill as many blacks as possible and that the number of blacks killed could have been much worse if it wasn't for the concealed handgun permit holder.
The Louisville Courier Journal reports that after Bush had visited the church:
The first call came into MetroSafe at 2:54 p.m. reporting that shots were fired inside the store. There were reports of "multiple injuries." . . .

According to the Jeffersontown police, the suspect, Gregory Alan Bush, entered the grocery store and "gunned down" the first victim, and then exited the store where he killed the second victim.

While in the parking lot, a citizen who possessed a concealed carry permit engaged with the suspect, according to Jeffersontown police.

"Multiple rounds were fired by both the suspect and the intervening citizen," Jeffersontown police wrote in a statement. "Neither the suspect nor the involved citizen, nor any other bystanders were injured with this exchange of gunfire."

Bush fled the scene in his vehicle. Police located Bush and his vehicle on Hurstbourne Parkway, next to the Stony Brook Center, where he was taken into custody. . . .
Another story on the case notes: "The police chief clarified that . . . the woman killed in the parking lot was shot by the suspect before the exchange [with the permit holder] began . . . ."
Titusville, Florida, August 4, 2018
A shooting at a back to school event for children and their families had a shooting that was quickly stopped by a concealed handgun permit holder. Something between 150 and 200 people (video here puts it at over 200), primarily children, were present at the event.
From Fox 32 WOFL in Orlando, Florida.
Titusville Police still have not released the name of the man who stopped the shooter at a park on Saturday, but they are calling him a hero.

The gunshots still echo across social media, after the emcee at Titusville's Peace in the City event posted a Facebook live video of the shooting. When a good Samaritan carrying a licensed concealed weapon shot the attacker, police say he did the right thing.

"Based on the information that we've gathered," said Titusville Police Sgt. William Amos.  "This person stepped in and saved a lot of people's lives." . . .
Here is another statement from the Titusville Police via the Orlando Sentinel on the evening of August 6th, 2018.
Titusville Police are calling the bystander who shot a gunman who opened fire at a park full of kids on Saturday a "hero." On Monday, police said they aren't releasing the names of those involved and said the citizen who returned fire on the suspect won't be facing charges.

"He's a hero," Titusville Police Sgt. Bill Amos said. "This park was filled with families and children and, at that time, it was an active shooter situation for him and he was trained enough to deal with it and he did." . . .
Tumwater, Washington, June 18, 2018
"He is a hero," Adams said. "He took action. I really think more people could have been shot… he saved us all."

A wild rampage at a Walmart in Tumwater, Washington was stopped when three concealed handgun permit holders confronted and killed the attacker. The attacker had carjacked a vehicle that he drove to the Walmart. Once there, the attacker stole ammunition and then went out of the store, continuing to shoot at people. He unsuccessfully tried to carjack another vehicle, seriously wounding the driver. When he attempted to carjack a second car, two armed customers shot dead the attacker.

According to the local Fox affiliate and Fox News, the man who killed the attacker is a pastor with five kids who was out with his family.

More details are available at KOMO News here.
Oklahoma City, Oklahoma, Thursday, May 24, 2018
Two men who had handguns in their cars, Juan Carlos Nazario, 35, and Bryan Whittle, 39, stopped what likely would have been a mass shooting at Louie's Grill & Bar in Oklahoma City. Police Capt. Bo Matthews said: "You can say they're heroes, which is a very good thing to say." Nazario is a security guard, and Whittle was able to legally carry a gun openly without a permit (it is unknown whether he had a concealed handgun permit, though it wasn't necessary for this case). The shooter, Alexander Tilghman, shot at people "from a position outside the front door" of the restaurant. It was from that position that he was stopped by these two heroes.  It turns out that Whittle's shot killed the gunman.
From USA Today:
The two, police say, prevented what could have been a deadly attack Thursday night after they armed themselves and took down the shooter, Alexander Tilghman. Both say they don't feel like heroes. . . .
The police captain also said this:
"They were able to shoot the suspect and put an end to a very dangerous situation," Mathews said.
The way that the attack was stopped was described this way:
"Drop the gun!" [Nazario] yelled repeatedly. Tilghman didn't respond. He raised the gun again and fired a round in the parking lot.

Nazario fired two shots. "He just fell to the ground."

Despite a restaurant full of innocent lives potentially saved, Nazario said he doesn't feel like a hero.
"I just can't understand being called a hero when someone's life was taken," he said. "I just did what I had to do. I'm very glad no innocent lives were taken but ultimately, there was a life taken." . . .
Both Alexander Tilghman, the killer, and Juan Carlos Nazario were security guards. We will continue to check whether Whittle had a concealed handgun permit.
The District Attorney issued this statement: "The two civilians who engaged, and ultimately neutralized the threat posed by Tilghman, were justified and compliant with the law when they employed deadly force."
San Antonio, Texas, December 7, 2017 (ABC 13 in San Antonio, Time Magazine)
This case is an exception to all the other cases shown here in that it received national coverage on Time magazine's website.  A man with a gun was about to start shooting a father's children as they were walking out of a restroom when the father killed the attacker.  This case was also unusual from the other cases above is that the attack was part of some other crime, a robbery.  Police stated that the permit holder saved at least several lives.  From ABC 13:
. . . Police say the robber approached the father around 8:30 Wednesday night while he was waiting for his kids to leave the bathroom.

That's when the robber pointed his gun at the family.

The father pulled out his own gun and killed the robber in the middle of the dining area.

Police say the father is a licensed carrier. He is not facing any charges.

Officials also say the father saved several lives. . . .
Rockledge, Florida, November 17, 2017 (Florida Today, WFTV.com in Orlando)
Two concealed handgun permit holders stopped an attack at Schlenker Automotive repair shop at 4:30 PM on the Friday after Thanksgiving.  The attacker, Robert Bailey, was armed with a .45-caliber handgun and "multiple magazines" and killed one person and severely wounded another in the business' parking lot.  Bailey continued shooting inside the shop.  From Florida Today:
Two other workers — both concealed weapons permit holders — confronted the gunman and engaged in a shootout that left the suspect wounded. Bailey continues to recover at Holmes Regional Medical Center in Melbourne. . . .
Video here from WFTV stated: "The police say this could have been even worse."  "This business was packed today with customers and employees," noted Karen Parks, a reporter at the scene.  Parks also reported that the police referred to the permit holder as a "good samaritan."
According to news reports, Bailey had no connection to the auto shop.  Indeed, he didn't even own a car.  It appears as if Bailey had selected this target simply to kill people.
Clearlake Oaks, California, October 23, 2017 (FBI report on active shooter incidents for 2016-17)
From the FBI report on page 5. At the first target, the killer was forced to stop his attack because of police arriving at the scene.  At the second target, a concealed handgun permit holder forced the attacker to break off his attack.
Antioch, Tennessee, September 24, 2017 (Chicago Tribune, Daily Caller) (the above picture shows a picture of Samson after he received treatment for his minor wound)
A 25-year-old shooter, Emanuel Kidega Samson, killed one person in the parking lot, entered the church, and started shooting.  A 22-year-old usher, Robert Engle, tried to wrestle with the shooter, but Samson is a very large bodybuilder, and Engle realized that he was not strong enough to stop him.  During the scuffle, Samson pistol wiped Engle causing him to bleed from his head.  Samson also shot himself, causing very minor wounds to his chest and arm.  Engle then ran to his car and got his permitted concealed handgun. The usher came back into the church and confronted the attacker, holding him there at gunpoint until police arrived. With one dead and seven wounded, the attack could have been much worse.
Don Aaron, a spokesman for the Metropolitan Nashville Police Department, said Samson drove up to the church and shot and killed a woman who was standing near her vehicle in the parking lot. The shooter — who police said was armed with two handguns — then entered the church through a rear door, shooting and wounding six people inside.

At some point, the gunman also pistol-whipped a church usher, causing "significant injuries" to the man, Aaron said. The usher, 22-year-old Robert "Caleb" Engle, confronted the gunman, police said, and during a struggle, Samson was injured with a shot from his own gun. The usher then ran to his car and retrieved a handgun, police said.

Aaron said the usher ensured the gunman did not make any more movements until officers arrived on the scene. "It would appear he was not expecting to encounter a brave individual like the church usher," Aaron said.

Police Chief Steve Anderson praised Engle for intervening: "We believe he is the hero today." . . .
Video of Police Chief Steve Anderson's comments:
He is the hero here.  He is the person who stopped this madness in its tracks.
Arlington, Texas, May 3, 2017 (Dallas Morning News)
This attack was stopped before more than one person was killed.  Yet, the police spokesman made it clear that the concealed handgun permit holder "prevented further loss of life" and that the killer was "shooting at the front door" at the customers who were fleeing the restaurant.  The headline on the Dallas Morning News story was: "'Hero' stopped mass murder by crazed bar patron who was armed to the teeth, police say."  Emphasis added in quotes below.
Another story in the Arlington Voice mentioned this:
"Had the Good Samaritan not intervened, there could have further loss of life," Cook said.

Jones did not have a license to carry. . . .
From the Fort Worth Star-Telegram
"because he engaged the shooter there was no further loss of life."
Townville Elementary School, September 28, 2016 (FBI report on active shooter incidents for 2016-17)
From the FBI report on page 5.
Lyman, South Carolina, June 30, 2016 (Fox Carolina)
Just a couple of weeks after the Orlando massacre, man, 32-year-old Jody Ray Thompson, started shooting at others at another nightclub.  Fortunately, unlike Florida, permitted concealed handguns were allowed in bars in South Carolina.  Before he could shoot a fourth person, the permit holder was able to shoot back, wounding Thompson in the leg.
"His rounds struck 3 victims, and almost struck a fourth victim, who in self-defense, pulled his own weapon and fired, striking Thompson in the leg," Lt. Kevin Bobo said.

Bobo said the man who shot Thompson has a valid concealed weapons permit, cooperated with investigators, and won't be facing any charges. . . . .
Also this
and at least one South Carolina sheriff [is] crediting a man with a concealed carry permit  with preventing further violence at a nightclub . . .
Winton, Ohio, Sunday, July 26, 2015, Fox 19 in Cincinnati and Fox News
The shooter in this case directly fired at four different people. Fortunately, because of the permit holder's quick actions, no one was seriously injured.
[Thomas] McCary [62-years-old] was arguing with a woman around 8 p.m. Sunday night and, when the woman's brother, Patrick Ewing, approached, McCary pulled out a .38-caliber handgun and fired three shots at him, Cincinnati police said.

Ewing didn't get hit, but he did get his own gun and returned fire, wounding McCary in the leg. Ewing had a permit to carry a concealed weapon.

Injured, McCary went into his house to get a second gun and, holding a weapon in each hand, he fired three shots in the direction of the woman, Jeaneta Walker, her 1-year-old son and a third man.

Ewing fired at McCary again to try to distract him as the victims fled indoors. McCary squeezed off a few more rounds, hitting no one, before withdrawing into his apartment, Cincinnati.com reported. . . .
Conyers, Georgia, Sunday, May 31, 2015, The Rockdale Citizen
Often it is claimed that citizens who stop mass public shootings don't get news coverage because they stop anyone from being killed.  But in this case two people were killed before the permit holder was able to stop the attack.
A customer who fired back at the suspect who killed two people in a Ga. Highway 20 liquor store Sunday afternoon is being hailed as a hero.

Rockdale County Sheriff Eric Levett said at a press conference Monday that Todd C. Scott, 44, a resident of Covington, very likely prevented other customers in the store from losing their lives.

Levett said store video from Magnet Bottle Shop showed that the suspect, Jeffrey Scott Pitts, 36, came in the store Sunday afternoon firing a handgun.

"I believe that if Mr. Scott did not return fire at the suspect then more of those customers would have hit by a gun," said [Rockdale County Sheriff Eric Levett]. "It didn't appear that he cared who he shot or where he was shooting until someone was shooting back at him. So in my opinion he saved other lives in that store."
From the Atlanta Journal-Constitution:
Pitts fled after another patron, Todd C. Scott, of Covington, opened fire with his own hand gun. It is still unclear whether Aikens died before or after Scott returned fire with Pitts, but the sheriff credited Scott with saving lives.

"I consider him to be a hero," [Rockdale County Sheriff Eric Levett] said.
New Holland, Wisconsin, May 5th, 2015, Fox Carolina (cases such as this where the people who stopped the attack didn't fire a gun don't tend to get that much news attention):
FOX Carolina 21: "CWPs likely stopped deaths of children, firefighters"
Firefighters said they may have stopped a massacre after a gunman surprised them at their station Tuesday.

The Aiken County Sheriff's Office said deputies responded to the New Holland Fire Department's Station 2 around 6:30 p.m. for a report of shots fired.

Firefighters said Chad Barker pulled up to the crowded fire station parking lot full of children and firefighters, got out of his car, and began firing in the air and at his vehicle. They say he also pointed the firearm at individual firefighters for lengthy periods of time.

"I came out of the office, saw the man with the gun, told everybody to leave out the back quickly that there was a man in the parking lot with a gun, and I was not kidding," said Gary Knoll, a firefighter for New Holland.

Knoll said he and another firefighter who have concealed weapons permits pulled their guns on the gunman.

Knoll said Barker returned to his vehicle and firefighters carefully followed him with their weapons still drawn. After encouraging Barker to put the gun down, Knoll said Barker ultimately complied and Knoll grabbed the gun. . . .
Chicago, Illinois, April 19, 2015, Chicago Sun-Times
An Uber driver with a permitted concealed handgun stopped what likely would have been a mass public shooting.  Police arrived on the scene quickly, but the Uber driver had still already taken care of the situation before they arrived. From Mitch Dudek in the Chicago Sun-Times (April 19, 2015):
An Uber driver put his concealed carry permit to use Friday night when he pulled a gun and opened fire on a man he saw firing a pistol into a group of people on a Logan Square sidewalk, according to prosecutors.

Six blasts from his gun injured a 22-year-old man identified as Everardo Custodio.

Custodio suffered wounds to his shin, knee and lower back . . . Cook County Judge Peggy Chiampas refused to grant [Custodio] bail on charges of aggravated battery with a firearm and illegal possession of a firearm.

The 47-year-old Uber driver "was acting in self-defense and in the defense of others," Assistant State's Attorney Barry Quinn said. . . .

The Uber driver had dropped off a passenger minutes before the shooting occurred, said Uber spokeswoman Jen Mullin. She had no comment on the driver's actions other than to say the company requires all its drivers to abide by local, state and federal laws pertaining to transporting firearms in vehicles. . . .

Police patrolling the area heard the shots and arrived to find Custodio on the ground and bleeding. Police also recovered a handgun found near Custodio, Quinn said. . . .

[The Uber driver is] a registered gun owner who has a concealed carry license. He doesn't face any charges. . . .
Philadelphia, Pennsylvania, March 22, 2015, NBC Channel 10:
A 40-year-old man was inside Falah Barber Shop Inc. on the 600 block of Preston Street shortly before 3 p.m. Sunday when police say he began fighting with another person inside. . . .

The fight quickly escalated and the 40-year-old man took out his gun and opened fire on customers and barbers, police said. , , ,

As he was shooting, another man outside heard the gunfire, ran into the shop and took out his own gun, according to investigators. He then opened fire, striking the 40-year-old man once in the chest. . . .

"The person who responded was a legal gun permit carrier," said Philadelphia Police Captain Frank Llewellyn. "He responded and I guess he saved a lot of people in there."
Darby, Pennsylvania, July 25, 2014
John Lott in the Philadelphia Inquirer (Other details on the case are available here).
The attacker, Richard Plotts, is a convicted felon, which bans him from legally owning a gun. . . .

At Mercy Fitzgerald, caseworker Theresa Hunt was killed when Plotts opened fire during a regularly scheduled appointment with Dr. Lee Silverman. Fortunately, the doctor had his own gun and returned fire, hitting Plotts three times and critically wounding him.

After firing all the bullets in his gun,  Plotts still had 39 bullets on him, bullets that he could have used to shoot many other people . . .
According to the Associated Press:
"Without a doubt, I believe the doctor saved lives," said Yeadon police chief Donald Molineux, according to the Associated Press.

"Without that firearm, [the shooter] could have went out in the hallway and just walked down the offices until he ran out of ammunition," Molineux said. . . .
Read more:  http://dailycaller.com/2014/07/24/doctor-saved-lives-by-shooting-hospital-gunman/#ixzz4YM9btwcG
Chicago, Illinois, July 7, 2014, from Geoff Ziezulewicz in the Chicago Tribune:
A Gresham man fired on a group of people leaving a party, only to be shot himself by one of the victims, a military service member with a concealed carry permit, authorities said.

The military member and three others were leaving a party Friday night . . .

One of the victims had noticed a cup of liquor on top of her vehicle and asked attendees of a party next door who it belonged to, Hain said.

When she removed it, Denzel A. Mickiel approached her, shouting obscenities and threatening her and her friends, according to Hain and court records. . . .

As Mickiel fired at the victims' vehicle, the military member retrieved his gun and took cover near the vehicle's front fender, according to Hain. Two unidentified people also shot at the group, she said.

The military service member fired two shots and struck Mickiel twice, she said.

A 22-year-old woman in the group was injured by Mickiel in the shooting, suffering wounds to the arm and back, according to court records and Hain.

The four victims escaped the melee in two vehicles as two unidentified people continued to shoot at them, Hain said. . . .
Portland, Oregon, January 11, 2014, Oregonian
Thomas Eliot Hjelmeland, 43-years-old, was ejected from a nightclub, but he returned 30 minutes later with a gun and wearing a mask.  He shot the bouncer who had ejected him and shot at others.  The bouncer was shot in the head and critically wounded. Two others were also wounded: one patron in the foot and a waitress, who had been standing at the front of the club, in both of her legs.  Hjelmeland was on probation at the time of the incident.  Given that Hjelmeland was shooting people all around the club, Bouncer Jonathan Baer, a concealed handgun permit holder who fatally shot Hjelmeland, appears to have had good reason to fear that other people at the front of the club would also have been shot by Hjelmeland.
Here is a February 1, 2014, article in the Oregonian.
Baer, 31, followed the masked gunman out of the club's interior doors to the entrance foyer and drew his own Glock .40-caliber pistol from his hip. He looked back one or two times to check on Rizzo, who hadn't gotten up.

While using one foot to prop open the club's inner door, Baer said he saw the masked man reach the front door. The man stopped and looked as if he were going to turn around. Baer said he leaned forward and fired two to three rounds.

Baer, who has a concealed handgun license, . . .

Baer later explained to detectives that he had thought about two dancers and two customers who were standing outside the club smoking. He said he didn't want anyone else to get hurt. . . .
And this January 21, 2014, article in the Oregonian.
Club co-owner Connie Barnes said she did not know Baer was armed that night, but she called him a hero.

In a Facebook post, Baer wrote, "I did what I felt was right to stop the shooter…I carry every day, and will continue to, and will so with the hope that I will NEVER have to pull it out again." . . .
Plymouth, Pennsylvania, September 2012
The article by Bob Kalinowski Citizensvoice.com states:
. . . It's the gun prosecutors said Ktytor used to put an end to a 26-year-old man's shooting rampage on Sept. 9, 2012 in Plymouth.

Ever since Ktytor, who has a concealed carry license, dropped the killer with several shots on Main Street in Plymouth, . . .

In October, the murder suspect, William Allabaugh of Plymouth, pleaded guilty to third-degree murder and attempted murder, then was sentenced to 25 to 50 years in state prison.

Authorities say Allabaugh critically wounded Stephen Hollman, 30, by shooting him in the head inside Bonnie's Food and Spirits on Main Street. A short time later, Allabaugh fatally shot Scott Luzetsky, 39, outside the bar. Police said both victims were innocent bystanders who didn't provoke the attack by Allabaugh, who was angered he was being kicked out of the bar.
More importantly, see this (emphasis added):
"The video footage and the evidence reveals that Mr. Allabaugh had turned around and was reapproaching the bar. Mr. [Ktytor] then acted, taking him down. We believe that it could have been much worse that night," Luzerne County A.D.A. Jarrett Ferentino said.
Early, Texas, August 2012, KTXS ABC Channel 12:
An armed citizen, Vic Stacy, shot and stopped a deranged man who had just murdered two neighbors and was firing at police with a rifle. Stacy made a very long shot with his revolver, three times as far as the perpetrator was from the police officer, who had an AR-15 type rifle.
Santa Clara, California, July 26, 2012, Reuters:
Salt Lake, April 27, 2012, ABC Channel 4
he Original story is no longer available, but this is its content:
Aurora, Colorado, April 2012, Fox 31 Denver by  Tammy Vigil:
Kiarron Parker rammed his car into another in the church parking lot, got out and attempted to kill multiple church members. He was only able to kill one before a member of the congregation, the nephew of the lady killed, and an off duty police officer, drew his handgun and shot Parker, stopping the killing.
Spartanburg, South Carolina, March 2012, article by Jenny Arnold at GoUpState.com (see also here):
Oklahoma City, December 2009, KWTV NEWS Channel 9:
Richmond, Virginia, July 2009 (this first description is based on a video of the shooting and a talk on the attack is here):
The gun owner was in the store [the Golden Market] waiting in line to pay for an item when the bad guy came in wearing dark sunglasses and trying to coverup his face while brandishing a revolver. The [bad guy] yelled for everyone to get down and before anybody could react, immediately walked over to the store owner and in a cold-blooded fashion shot him twice. The owner then dropped down behind the counter. . . .

The [bad guy] ran towards the back of the store, aiming his gun at an innocent man laying prone on the floor. Luckily the [bad guy] was too distracted by the [gun owner] to shoot the man. There is no doubt in my mind that the man would have been shot in cold blood that day if it weren't for that [gun owner] returning fire. . . .

As he approached the front of one aisle, he again pointed a gun at a person on the ground and was about to execute him, when he was again distracted by the [gun owner]. . . .
College Park (near Atlanta), Georgia, May 7, 2009, WSB-TV 2
More information is available from WFXI in Atlanta:
The resident of the apartment, Charles Bailey, told police that he thought it was the end of his life. He and ten other people were in his apartment celebrating at a birthday party when two masked gunmen burst through the patio door. . . .

Bailey further informed authorities that the suspects counted their bullets. Apparently Hill was guarding the men when one of the victims retrieved a gun from a backpack and turned the tables on the situation. Hill reportedly fled the scene.The victim with the gun then proceeded to the next room where Lavant had watch over the females at the party.The guy was apparently was about to rape one of the females, said Bailey. . . .

Bailey said if not for the quick thinking of that party goer, it is likely that all the victims would have been killed. I am thankful that one student risked his life for others. . . .
Winnemucca, Nevada, May 25, 2008, KOLO ABC Channel 8 (Reno):
Colorado Springs, Colorado, December 2007, by Solomon Banda with the Associated Press:
Memphis, Tennessee, March 2007, WBIR TV NBC in Knoxville, TN:
Memphis, Tennessee, July 21, 2006.
Here is another knife attack that was stopped before the police were able to arrive.  From Fox News:
A knife-wielding grocery store employee attacked eight co-workers Friday, seriously injuring five before a witness pulled a gun and stopped him, police said. . . .

The attack apparently stemmed from a work dispute, police said.

Five victims, one in critical condition, were admitted to the Regional Medical Center, the main trauma hospital for the Memphis area. Three others were less badly hurt and treated at another hospital.

The attacker, chasing one victim into the store's parking lot, was subdued by Chris Cope, manager of a financial services office in the same small shopping center, Higgins said.

Cope said he grabbed a 9mm semiautomatic pistol from his pickup truck when he saw the attacker chasing the victim "like something in a serial killer movie."

"When he turned around and saw my pistol, he threw the knife away, put his hands up and got on the ground," Cope told The Associated Press. "He saw my gun and that was pretty much it."

Police arrived within minutes . . . .
Tyler, Texas, February 2005, Fox News (see also here):
Grundy, Virginia, Jan. 16, 2002
Josh White in the Washington Post recounts the testimony of Mikael Gross, one of the two students who had:
Edinboro, Pennsylvania, April 1998, from Robert Moran and Susan Q. Stranahan in the Philadelphia Inquirer
Muskegon, Michigan, August 1995, The Chronicle:
Plans to slay everyone in the Muskegon, Michigan, store and steal enough cash and jewelry to feed their "gnawing hunger for crack cocaine" fell apart for a band of would-be killers after one of their victims fought back. Store owner Clare Cooper was returning behind the counter after showing three of the four conspirators some jewelry, when one of the group pulled out a gun and shot him four times in the back. Stumbling for the safety of his bullet-proof glass-encased counter, Cooper managed to grab his shotgun and fire as the suspects fled. . . .
Anniston, Alabama, December 1991, J. Neil Schulman in the Los Angeles Times:
. . . two men armed with recently stolen pistols herded 20 customers and employees of a Shoney's restaurant in Anniston, Ala., into the walk-in refrigerator and locked it. Continuing to hold the manager at gunpoint, the men began robbing the restaurant.

Then one of the robbers found a customer who had hidden under a table and pulled a gun on him. The customer, Thomas Glenn Terry, legally armed with a .45 semi-automatic pistol, then fired five shots into that robber's chest and abdomen, killing him instantly.

The other robber, who was holding the manager at gunpoint, opened fire on Terry and grazed him. Terry returned fire, hitting the second robber several times and wounding him critically.

The robbery attempt was over. The Shoney's customers and employees were freed. No one else was hurt. . . .
The preceding list is not meant to be anything near comprehensive.  One can see how hard it is to identify these cases when there is often just one or two stories on a case.
Possible cases
Cicero, Illinois, September 15, 2018
The Chicago Tribune points out that the police considered a concealed handgun permit holder a hero. They did not initially know if the permit holder was the one who had shot the criminal, but that at the very least his shots helped stop the attack and made it possible for the other officer to shoot the criminal. The police and others referred to the permit holder as a "hero."
Police said the concealed gun holder was stuck in traffic when he witnessed the police activity, decided to intervene, and got out his car and fired at the man. . . .

[David] Lombardo added, "speaking as a former part-time deputy and an ex-military guy, the (citizen) was an angel. He knew what he was doing, he got involved when he didn't have to and he saved the cop's life. The bad guy could have hit somebody else too. So who knows how many lives (the citizen) saved?"

Cicero police and town leaders credited the citizen, whose name they did not release, with helping to end the wild shootout during the Thursday evening rush hour.

"We were lucky enough to have a citizen on the street there who is a conceal carry holder, and he engaged in gunfire with the suspect," Cicero police Superintendent Jerry Chlada Jr. said . . . .
It later turned out that the permit holder wasn't the one who had wounded the criminal. From the Chicago Sun-Times:
The officers attempted to pull the vehicle over, but it drove off and got stuck in traffic near the expressway ramp, Assistant State's Attorney Guy Lisuzzo said. When the officers blocked the Mercedes in, Mageo, armed with a black handgun, allegedly opened fire.

Duarte was shot at least six times — in the leg, hip and shoulder, Lisuzzo said. A bullet also struck the officer's Taser. Duarte has since been released from the hospital, but  was still walking with the aid of a walker, authorities said.

A witness with a permit to carry a concealed gun saw the shooting and fired three times at Mageo as he ran, Lisuzzo said. None of those bullets struck Mageo. . . .
Rock Hill, South Carolina, December 21, 2017 (The State newspaper (Columbia, South Carolina), WYFF Channel 4 TV)
The attacker wielding a large wrench threatened to kill several people.  The attacker had cornered one of the employees, and he would have likely killed her.  Fortunately, two concealed handgun permit holders stopped the attack.  This case is only included as possible because it isn't clear that the attacker would have been able to kill more than the one female employee.  From The State newspaper:
A pair of customers legally carrying guns held a pipe-wielding attacker at bay at a York County car dealership until police arrived in a December incident where the suspect threatened to kill dealership employees, prosecutors said in court Friday.

Alonzo Seegars, upset with service at Stateline car dealership on Gold Hill Road in Fort Mill on Dec. 21, arrived armed with a pipe wrench, said Aaron Hayes, 16th Circuit assistant solicitor. Seegars told a service employee, "I know who you are and you are a dead man," then "threatened to kill" a female employee, Hayes said.

Seegars then shouted out "Watch this!" as he smashed at least three vehicles with the pipe wrench, Hayes said.

Two customers, whom prosecutors said had legal concealed carry permits and were armed legally at the time, intervened and "held Mr. Seegars at bay" with the handguns at the crowded dealership until police arrived, Hayes said. York County deputies tackled Seegars after using an electric stun gun. Seegars suffered a broken leg in the scuffle. . . .
North Naples, Florida, July 11, 2018
It looks as if the permit holder stopped what otherwise would have been a drive-by shooting.  WINK television news -had this headline "Good Samaritan with a gun stops possible shooter outside restaurant."
If it wasn't for Good Samaritan, named Tom, standing by, an evening out could have turned into someone's worse nightmare.

"You wonder, is this ever going to happen to me, and it did," Tom said.

According to witnesses, what Tom did may have prevented a tragedy.

"I pulled into Jack's, just walked in to grab a beer. Walked outside to sit down, and there was a table of ladies to the right of me," Tom said. "Almost immediately, this black Lincoln pulled up with all dark windows and he did a hell of a burnout." . . .

Tom says a man, who deputies later identified and arrested as Keith Zavattaro, 55, of Naples, drove back to the front of the building, stopped and then slowly rolled down his window to then point what looked like a gun.

"So I got behind the cement pillar and showed my pistol, and he took off out of there really quick," Tom said.

According to the arrest report, other people outside also saw the gun.
Houston, Texas, Sunday, May 29, 2016, The UK Daily Mail
Dionisio Garza III from San Bernardino County, California, has been named as the man behind the gun attack that left two people dead and six wounded.

He served four tours of duty in Afghanistan and was discharged from active duty in 2014, and doesn't appear to have a criminal history. . . .

He killed 56-year-old Eugene Linscomb and critically injured father Byron Wilson, who police say was trying to fight back and stop the deadly attack.

Authorities said Wilson had a concealed carry permit and fired at the suspect. He was shot three times in the process.

He is expected to survive. . . .
more on this case is here on KHOU-TV:
All the while, feeling grateful that her friend still has his life and his actions may have kept others from losing theirs.

"He could have prevented more people from being shot," Guerra said. "He's a hero, even though he was shot. He's a hurting hero." . . .
Las Vegas, Nevada, June 8, 2014
A Concealed Carry Permit Holder may have limited the carnage in North Las Vegas shooting that left three people dead.  While the permit holder lost his life, it appears as if he was able to delay the killers' attack on others and give people a chance to escape.
Portland, Oregon, December 2012 KGW Staff:
Meli is emotionally drained. The 22-year-old was at Clackamas Town Center with a friend and her baby when a masked man opened fire.

"I heard three shots and turned and looked at Casey and said, 'are you serious?,'" he said.

The friend and baby hit the floor. Meli, who has a concealed carry permit, positioned himself behind a pillar.

He was working on his rifle, said Meli. He kept pulling the charging handle and hitting the side.

The break in gunfire allowed Meli to pull out his own gun, but he never took his eyes off the shooter.

"As I was going down to pull, I saw someone in the back of the Charlotte move, and I knew if I fired and missed, I could hit them," he said.. . .

I'm not beating myself up cause I didn't shoot him, said Meli. I know after he saw me, I think the last shot he fired was the one he used on himself. . . .
Eugene Volokh has a discussion available here about why he doesn't include this on his list of four cases that he has.
Manchester, New Hampshire, April 15, 2007
The links to the original New Hampshire Union Leader are broken, but I have links to a blog that quotes the articles.
Bullets flew outside the Uptown Tavern early yesterday when a peeved patron began shooting at a doorman after being thrown out of the club. The shooter himself was shot twice by an armed customer who rushed to the bouncer's defense, a club owner and police said.

The shooter had missed doorman Chad Ryan after firing about four shots at him in the 1301 Elm St. club's parking lot when the alleged gunman was himself hit twice by the unidentified patron who returned fire about 12:45 a.m., said club co-owner Dave Somers.
Tacoma Mall in Tacoma, Washington, November 20, 2005.
While this case ended with the permit holder not stopping the shooter, the exchange of gun-fire with the shooter delayed him and thus gave others a chance to escape and police more time to arrive.
Other Cases
Hoover, Alabama (Galleria Mall), November 23, 2018
Emantic Bradford Jr apparently tried to use his gun to stop what might have been a gang shooting at a mall. Unfortunately, Bradford was shot by a police officer. The Alabama Attorney General cleared the police officer in the shooting of any crime, saying that he acted reasonably because of the chaos. One factor that helped cause problems was that the mall banned concealed handgun permit holders. This is the only case that we know of where a permit holder was shot by police when he was trying to stop a shooting, though he apparently wasn't doing it in a place where he was legally able to do it. It also isn't clear if Bradford was himself involved in stopping the shooting of civilians.
Off-duty police have also had some dramatic cases
Lenexa, Kansas, November 26, 2017
As the chaotic scene unfolded and the gunman methodically walked through the aisles of the Lenexa Costco on Nov. 26, . . .

When the gunman, later identified as Ronald O. Hunt, announced, "I'm an off-duty U.S. Marshal, I'm here to kill people," Howell realized that he had only one option.

"I knew that there was a threat that had to be stopped," Howell said Friday as he recalled the incident. . . .

In announcing that the retired U.S. Army veteran would not face criminal charges, Johnson County District Attorney Steve Howe said Howell "acted with extreme courage, and saved an unknown amount of innocent lives." . . .

"You never know what situation you are going to find yourself in whether it is a restaurant or a shopping mall, or just driving down the road," he said. "I think it would be ludicrous not to be prepared." . . .
Plymouth County, Massachusetts, May 11, 2016
A stabbing rampage that left two victims dead and several others injured ended when an off-duty police officer fatally shot the suspect.

Plymouth County Sheriff's Deputy Jimmy Creed was off-duty "with his bride, just having dinner," when the chaos unfolded, police sources told ABC News.

They were dining at Bertucci's Italian restaurant in the Galleria Mall in Taunton, about 40 miles south of Boston.

Suspect Arthur DaRosa had walked into the restaurant and "armed himself with a knife and stabbed two people," District Attorney Thomas Quinn said in a statement released early this morning.

Quinn said today that DaRosa's sister told police he had checked himself into a local hospital Monday night and was released Tuesday morning, hours before the attacks. . . .
St. Cloud, Minnesota, September 17, 2016
A terrorist mass stabbing occurred at the Crossroads Center shopping mall in St. Cloud, Minnesota. Ten people were injured, and the attacker was shot dead inside the mall by an off-duty law enforcement officer. The FBI began investigating the stabbing as a possible act of terrorism.
The Washington Post Reports: "the attacker lunged at Jason Falconer, a part-time police officer in Avon, Minn., 15 miles northwest of St. Cloud. Falconer then fired shots at the stabber, who fell but got up three times before he died."
Fox 9 in AVON, Minn
Off-duty police officer Jason Falconer was the right person, in the right place, at the right time. The part-time cop with the Avon, Minnesota Police Department is the owner of a gun range in Waite Park called Tactical Advantage, and he's a competitive shooter, according to his police chief. In fact, he's the firearms instructor for the city of Avon.

"I believe there was divine intervention," Chief Corey Nellis said. "I believe he was the person that needed to be there to prevent it from being worse than it was." . . .
San Antonio, Texas, December 2012, WOAI  (possibly shouldn't be included in the list of off-duty police officer as the person was moonlighting as a security guard):
"It started at the restaurant and then went into the parking lot and then into the movie theater," Deputy Lou Antu told 1200 WOAI news.

Investigators say some of the terrified restaurant patrons poured into the movie theater, and the gunman followed.

He opened fire, shooting one man in the chest, before Antu says an off duty sheriff's deputy who was working security at the theater shot him once.

"The officer involved, she took the appropriate action to try to keep everyone safe in the movie theater," Antu said.

The gunman and the patron are hospitalized.

Antu says the gunman never made it into the theater itself, thanks largely to the heroic work of the off duty deputy.

"She did what she felt she had to do," Antu said.  "I feel that she saved a lot of lives by taking the action she had to take." . . .
Aurora, Colorado, April 24, 2012, Fox Channel 31, Denver
. . . Aurora Police say Kiarron Parker, 29, of Denver, shot and killed Josephine Echols, 67, just before 3 p.m. outside the Destiny Christian Center in the 10600 block of E. Bethany Dr. That's not too far from Parker Rd. and Havana St.

Parker had a lengthy criminal record.

An off-duty Denver police officer shot and killed Parker. . . .

That gave him enough time to hide behind a car.

Then, the bullets started raining, and hit Mama Jo.

That's when an off-duty Denver policeman—also Mama Jo's nephew—shot the suspect dead.

"Thank God for him because if it wasn't for him there's no telling what would have happened," says Martin. . . .
New York Mills, New York, May 2010, WKTV:
. . . Shortly before 1 p.m. on that Thursday afternoon, Dicken walked into the cellular phone store on Commercial Drive, with a 357 magnum in his hand, and a list in his pocket containing the six names of the AT&T store employees to which he was holding such deep anger, and planned to kill as a result.

"The suspect had no prior history," said Lt. Troy Little of the New York State Police.

That man with no prior criminal record walked into the store and shot Seth Tyrk, a store employee who was doing no more than working at a computer at his job. Authorities believe Dicken could have been even more successful with his list of six victims, if not for the instantaneous actions of Rome Police Officer Donald J. Moore, who was off-duty, but in the store as a customer at the time of the shooting.

"He heard and sees the gun, draws his weapon, and fired," Lt. Little said of Officer Moore's reaction.

Officer Moore was carrying his own 40 caliber handgun.

"It's his own personal choice," said Moore's boss, Rome Police Chief Kevin Beach. "We do encourage our officers to carry off-duty." . . .
Salt Lake City, Utah, February 2007, CBS News (note this off-duty officer carried his gun where he was not allowed to do so (more details here)):
An off-duty police officer having an early Valentine's Day dinner with his wife was credited Tuesday with helping stop a rampage in a crowded shopping mall by an 18-year-old gunman who killed five people before he was cut down.
A day after the shooting, investigators struggled to figure out why a trench-coated Sulejmen Talovic opened fire on shoppers with a supremely calm look on his face.
The teenager wanted to "to kill a large number of people" and probably would have killed many more if not for the off-duty officer, Police Chief Chris Burbank said.
Ken Hammond, an off-duty officer from Ogden, north of Salt Lake City, jumped up from his seat at a restaurant after hearing gunfire and cornered the gunman, exchanging fire with him until other officers arrived, Burbank said.
"There is no question that his quick actions saved the lives of numerous other people," the police chief said. . . .
Santee, California. In 2001, a student (Charles "Andy" Williams) shot and killed two of his classmates and wounded 13 others before being subdued and held at gunpoint by an off-duty police officer who was bringing his daughter to school.
The post UPDATED: Compiling Cases where concealed handgun permit holders have stopped mass public shootings and other mass attacks appeared first on Crime Prevention Research Center.